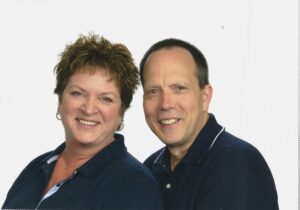 Bev and Chuck LeBlanc are trained by the John Maxwell Team, a world-renowned organization that seeks to inspire, challenge, and equip you to develop the leader within you and become a difference maker.
They are both passionate about helping people become better communicators and leaders, believing one naturally follows the other in every aspect of life—personally and professionally. They know that communication is NOT optional; we all interact on a daily basis with family, friends, co-workers, and even strangers. How well we do that dictates our success in life.
The desire to be effective communicators initially led Bev and Chuck to the Toastmasters program. For over a decade they have worked to develop their own skills while helping others do the same. They have taken the concepts learned and extended them into individual coaching and group workshops that enable participants to quickly apply simple tools for personal growth and self-development.
Both Bev and Chuck have been involved extensively in the community for nearly 20 years. They have assumed leadership roles for a variety of non-profit organizations such as Friends of the Chinook Regional Hospital, The Lethbridge Community Network, and Streets Alive. They are also trained by the Alberta Board Development Program to deliver 'hand's on' workshops that assist non-profit organizations in building governance skills.
Chuck has been recognized professionally in Canada and the United States, receiving top awards for sales and customer service. Bev is a former teacher who has also worked in the real estate industry for a number of years. Their professional relationships require advanced communication and leadership skills.
They continue their involvement with the Toastmaster organization by leading at a higher level.  As a senior leader Chuck has developed strategic plans, built a team of leaders across Alberta and Saskatchewan, and has been awarded special recognition by Toastmasters International for his performance.
In spite of their commitment and dedication, they don't take life or themselves too seriously (at least Bev doesn't) and believe that one of the keys to learning is having fun. When we enjoy ourselves, we more readily remember what we learn.
Bev and Chuck are one of the original 'internet' couples, having met on-line when most dating was still done in person. Talk about the need for communication skills! Getting married almost 16 years ago on July 4 (so there would always be fireworks) began a path of love, mutual admiration, and a commitment to share their knowledge, experience, and expertise with others who want to achieve their goals and dreams.